The Process Horizon web app: simplistic sophistication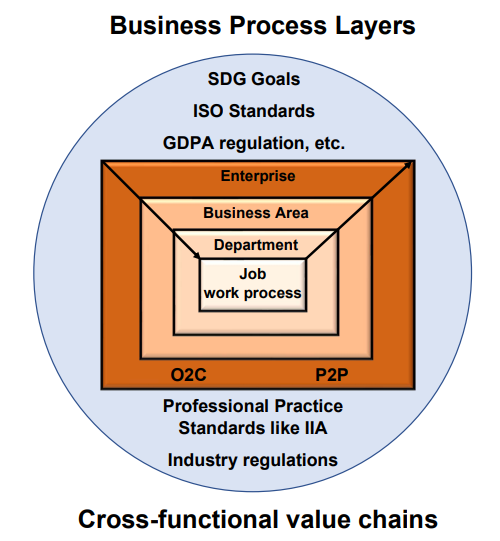 You might wonder why you should try out the Process Horizon web app and what you might get from using it.
As a manager and professional or subject matter expert deep learning about your business process universe is a must in the digital business age of Digital Process Automation and can be obtained by fast-track documentation of your work processes.
Your process definition will start with the process name (verb & object) and entry of the suppliers & inputs as well as the outputs & customers to this process as it comes to mind.
The SIPOC or COPIS process modeling approach is inherently supported as suitable to you:
- Supplier (Source) > Input > PROCESS > Output > Customer (Destination)
- Customer (Destination) > Output > PROCESS > Input > Supplier (Source)
Instantly, a visual process diagram will be displayed and expanded as you enter further process information facilitating a fast-track iterative approach.
The default process hierarchy layer is Process (PR) representing the management level which based on your scope can be changed to a higher Main Process (MP) strategic level or a lower Subprocess (SP) working level as appropriate.
For a process suite within a process layer the sequence of the process flow can be defined by selecting its predecessor process from the navigation dashboard.
For your process model a visual process map is generated and can be displayed as per your selection in the navigation bar. The graphical process diagrams and process maps can be output as pdf document e.g. as part of your process handbook.
Based on your process data recorded in the repository, insights about inter dependencies or inconsistencies, etc. can be gained from its analytical reports.
Knowing your processes it should take no more than 10 minutes per process definition and maybe a rainy Sunday afternoon for a whole process model.
Your take away will be a deeper understanding of your processes, redundancies shortcomings as well as opportunities for improvement or redesign. With a fast changing environment, it's always better to be in the driver's seat and proactively manage your mission rather than being managed out.
Last but not least, I think that a state-of-the art process documentation by means of a process map should be part of an actionable job description.
Free trial of the smart Process Horizon web app: https://processhorizon.com