Map & establish municipal administration processes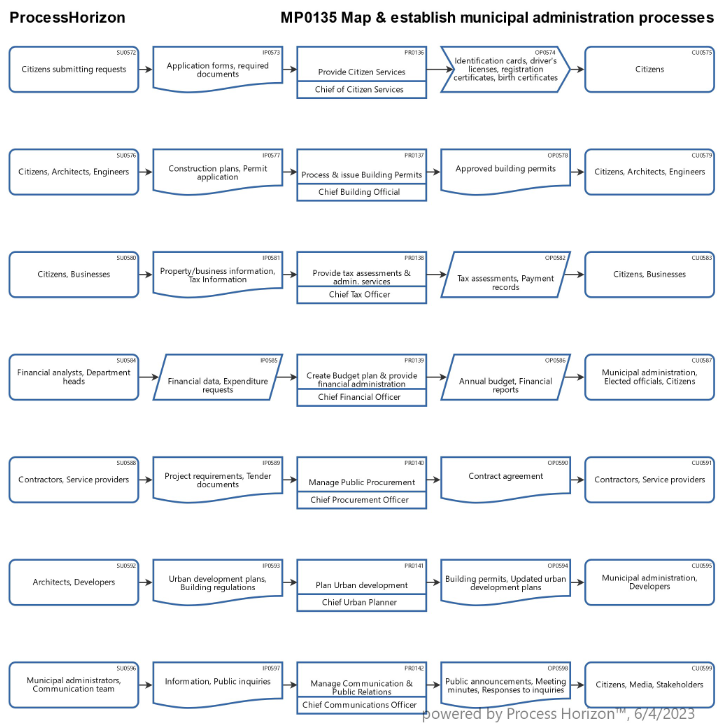 In a municipal administration, there are a variety of processes that are necessary for effective administration of the municipality and fulfilling public tasks. Here are some of the most common processes that can occur in a municipal administration:
1. Citizen Services: The municipal administration provides various services to citizens, such as issuing identification cards, driver's licenses, registration certificates, and birth certificates. The process involves accepting applications, verifying the required documents, processing the requests, and issuing the corresponding documents.
2. Building Permits: When citizens or businesses want to undertake construction projects, they usually need to obtain a building permit from the municipal administration. The process involves reviewing submitted plans, ensuring compliance with building regulations, coordinating with other relevant authorities, and issuing the building permit.
3. Tax Administration: The municipal administration is typically responsible for managing and collecting municipal taxes, such as property taxes or business taxes. The process involves calculating taxes, issuing tax assessments, monitoring payments, and handling objections or complaints.
4. Budget Planning and Financial Administration: The municipal administration prepares the annual budget, which determines the municipality's revenues and expenditures. The process involves analyzing the municipality's financial needs, creating the budget, monitoring the budget, and reporting on the municipality's financial status.
5. Public Procurement: When the municipality wants to outsource construction projects or services, public tenders are conducted. The process involves preparing tender documents, announcing the tender, evaluating offers, and awarding the contract to the best bidder.
6. Urban Planning and Development: The municipal administration is responsible for the development and implementation of urban development plans. This includes analyzing spatial requirements, establishing building regulations, processing building permits, and monitoring urban infrastructure.
7. Communication and Public Relations: The municipal administration regularly communicates with citizens, providing information on important events, projects, or decisions, and ensuring transparent communication. This involves publishing information on the municipal website, organizing public meetings, and responding to citizen inquiries.
These are just some examples of the processes that can occur in a municipal administration. Depending on the size and scope of the municipality, there may be additional specific processes as well.
Process Mapping based on the intuitive SIPOC methodology provides transparency for all stakeholders, i.e. above all for the citizens via instantly generated end-to-end process maps.
Supplier > Input (Document, Data) > PROCESS > Output (Value Chain, Service) > Customer
Explore the ProcessHorizon web app for automated process mapping and design as well as integrated process documentation https://processhorizon.com