Two horizons process paradigm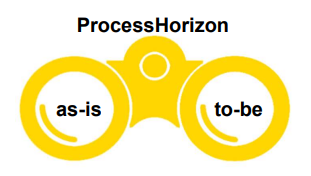 The two horizons process paradigm is the model for change from a current as-is to a preferred future to-be business process model building a bridge to a sustainable business model run by collaborative automated processes.
SIPOC process modeling & value proposition by ProcessHorizon
The ultimate object of process modeling is the transformation of input to output in a process driven by value-add to stakeholders.
SIPOC is a general concept for process modeling universally acknowledged and propagated by the ISO9001 QMS standard and is thus an organizational resource promoting an agile, innovative entrepreneurial mindset supporting intelligent end-to-end process automation aiming at quality improvements, productivity gains, cost savings and revenue growth and last but not least enhanced customer experience.
The scope of the SIPOC methodology is defined by its building blocks of input, output, processes (activities), and stakeholders projecting a joint data & process view from a business perspective.
SIPOC process modeling is an integrative coordinating management tool promoting holistic process thinking and engagement in process development work in a play like imaginative out-of-the-box design thinking horizon.
Intuitive SIPOC business process modeling is an expertise open to every qualified professional & domain expert and is thus applicable to all professions and industries.
An immersive process modeling experience and inherent deep learning will lead to professional development and master expertise.
There is no right or wrong process model, only good or bad towards the process mission and objectives.
Transition from a descriptive process model to a prescriptive automated process vision through collaborative co-modeling process development re-imagining your business processes e.g. in support of an AI project.
Create a business oriented multilayer end-to-end process map as the hallmark of a data & process driven innovation organization.
Process Horizon is a general-purpose easy-to-use process modeling tool with seamless support across three layers, i.e. strategic conceptual, management and working level.
The ProcessHorizon web app supports an iterative looping, rapid prototyping approach to process design, generating data & process knowledge towards organizational development.
Explore & experiment with the smart ProcessHorizon web app https://processhorizon.com