How to take Business Process Modeling to the next level ?
> from manual process flowcharting to a full auto visual process model AI design approach
Are you looking for a new Process Horizon, set as a multilayered end-to-end Process Map being instantly generated from your interactive process model definitions in SIPOC notation as propagated by the ISO9001 QMS standard as well as e.g. by a university research paper on "Improving the Internal Auditing Procedure by Using SIPOC Diagrams"

the visual e2e Process Map example below was automatically generated by the ProcessHorizon app from my notion of an easy to understand SIPOC modeling notation for Suppliers, Input, Process, Output, Customers and last but not least Events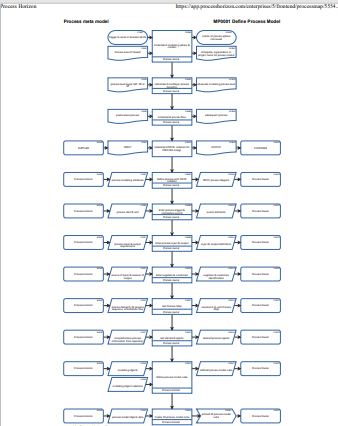 > an end-to-end process model over three process layers can be designed within hours providing an instant holistic Process Map for your project, organization or enterprise

Tap your process intelligence on your business critical processes for sustainable business operations and compliance.

>>> free trial of the smart and interactive ProcessHorizon web app
to experience the truly new auto visual process modeling tool for instant results.
ProcessHorizon benefits                                                                                             - SIPOC+ diagram generator                                                                                                 - Visual e2e Process Map generator                                                                                 - Process Navigation dashboard                                                                                       - Process model repository with analytical reports                                               - AI Automated Intelligence inclusive                                                                     - CAPD Computer-aided Process Design                                                                 - Smart user-friendly web app with a yearly subscription