Manage e-commerce processes 1/2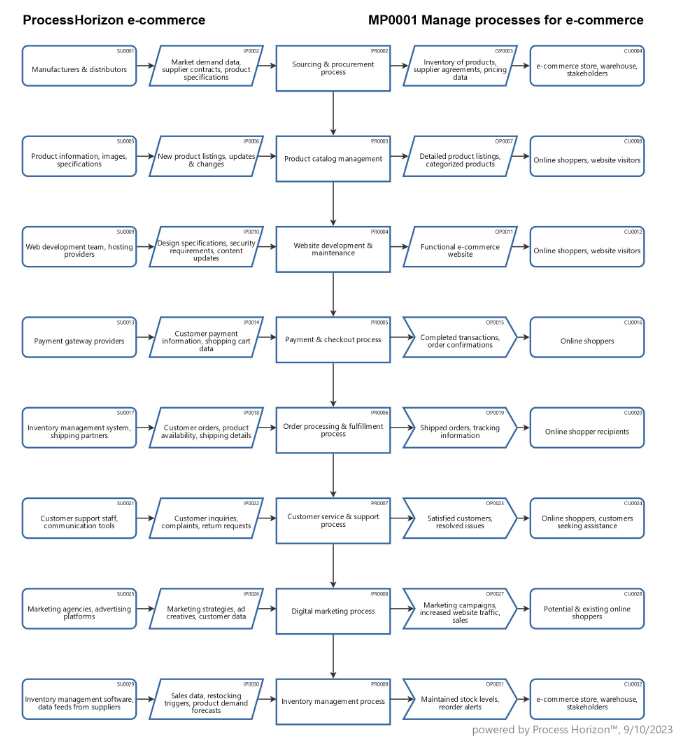 Success in competitive e-commerce very much depends on stringent process management with reliable processes building customer trust.
1. Sourcing & procurement process
Identify suppliers and manufacturers e.g. for computer and electronics products.
Negotiate favorable terms, prices, and agreements with suppliers.
Maintain an inventory of products based on demand and market trends.
2. Product catalog management
Create detailed product listings with accurate descriptions, specifications and high-quality images.
Organize products into categories and subcategories for easy navigation.
Regularly update product information, pricing, and availability.
3. Website development & maintenance
Develop a user-friendly and responsive e-commerce website.
Ensure the website is secure, loads quickly and provides a seamless shopping experience.
Regularly update and maintain the website, fixing bugs and optimizing performance.
4. Payment & checkout process
Implement secure payment gateways to accept various payment methods.
Optimize the checkout process to minimize cart abandonment.
Ensure PCI DSS compliance for handling sensitive customer payment information.
5. Order processing & fulfillment process
Receive and confirm customer orders.
Efficiently pick, pack, and ship products to customers.
Provide tracking information and delivery updates to customers.
6. Customer service & support process
Offer responsive customer support through multiple channels (e.g. email, chat, phone).
Handle customer inquiries, complaints and returns professionally.
Strive for excellent customer satisfaction and retention.
7. Digital marketing process
Develop and execute digital marketing strategies (SEO, SEM, email marketing, social media).
Run targeted advertising campaigns to reach potential customers.
Monitor and analyze marketing performance to adjust strategies.
8. Inventory management process
Implement inventory tracking systems to optimize stock levels.
Monitor and reorder products to prevent stockouts or overstocking.
Consider drop-shipping or just-in-time inventory methods for cost efficiency.
9. Data analytics & insights
10. Security & compliance
11. Logistics & shipping process
12. Customer engagement & loyalty
13. Financial management process
14. Market research & competitive analysis
15. Scaling & growth strategies                                                                                                                              
Via the following link you can access this sandbox process model on the ProcessHorizon web app and easily adapt it, i.e. customize it to your needs and design your winning process model with an implicit visual process map all in one: https://app.processhorizon.com/enterprises/dP3KRDLaaburEPVAjrJzK195/frontend