Manage a public library as a service public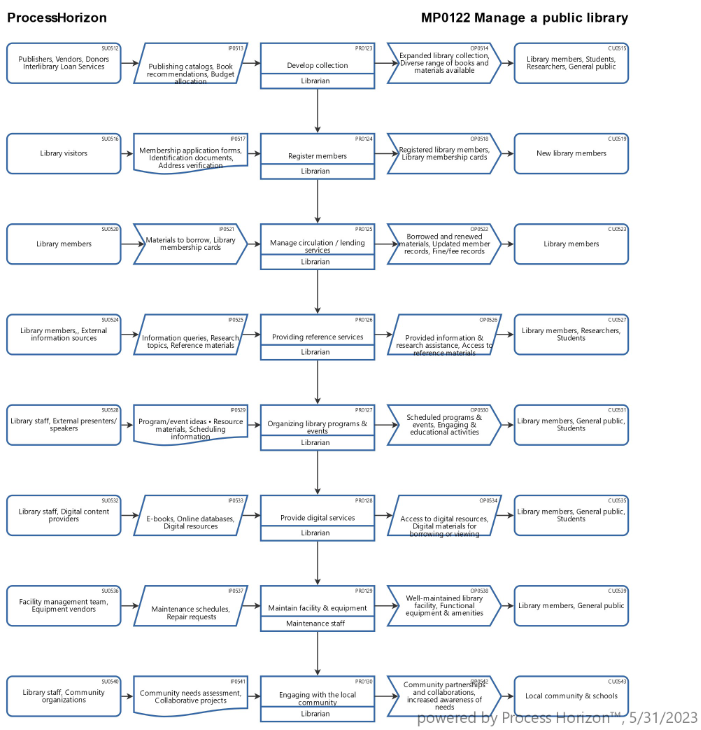 Why should people read books ?
ChatGPT: "Unlock new worlds, expand your knowledge, and ignite your imagination. Dive into the captivating realm of books, where adventure, empathy, creativity, and stress relief await. Discover the power of reading and embark on a journey that will enrich your life."
Why are public libraries needed ?
ChatGPT: "Open the doors to a world of equal access, community connection, lifelong learning, and digital inclusion. Public libraries are the heartbeats of our communities, providing free resources, educational opportunities, and a haven for all. Join us in preserving our cultural heritage and embracing the transformative power of libraries."
Main processes of a public library:
Collection Development: researching and identifying materials, acquiring materials from suppliers, cataloging and classifying materials, adding materials to the library collection
Member Registration: accepting membership applications, verifying identification and address, registering new members in the library system, issuing library membership cards
Circulation Services: checking out borrowed materials, recording borrowed items in the library system, managing due dates and renewals, processing returns and removing items from member accounts, collecting fines/fees for overdue or lost materials
Reference Services: assisting users with information needs, conducting research on specific topics. providing reference materials and resources, answering questions and guiding users in their search
Program & Event Management: planning and organizing library programs and events, coordinating with presenters and speakers, promoting programs and events, managing logistics and resources
Digital Services: managing digital collections, providing access to e-books and digital media, assisting users with online resources and databases, troubleshooting technical issues
Facility & Equipment Maintenance: conducting regular facility inspections and maintenance, repairing or replacing equipment as needed, ensuring a clean and comfortable environment, addressing safety and accessibility concerns
Outreach & Community Engagement: engaging with the local community, collaborating with schools and organizations, Hosting outreach activities and programs, promoting library services and resources
Explore the smart ProcessHorizon web app for automated SIPOC process mapping: https://processhorizon.com