Environmental & climate change processes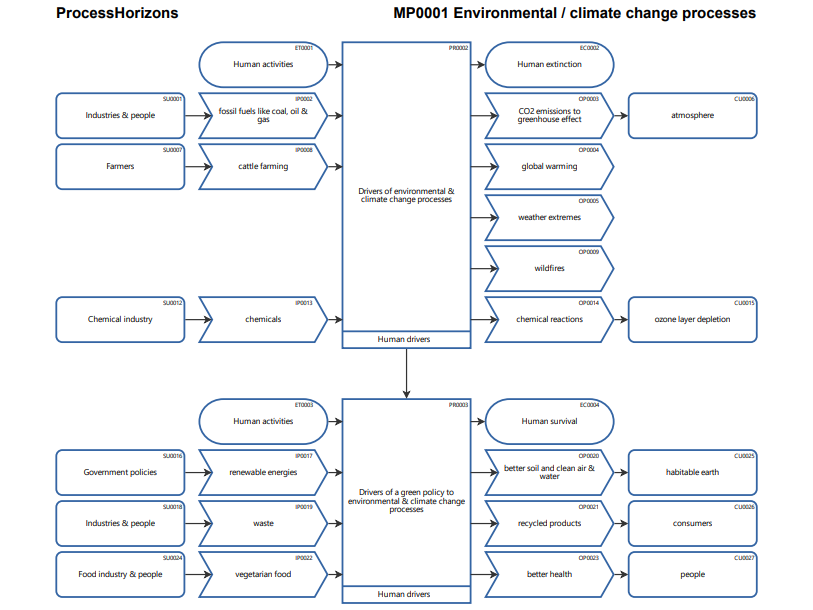 Causes and effects of complex environmental & climate change processes can be defined by the SIPOC process notation and visualized by respective process diagrams as well as by end-to-end process maps. The purpose of the basic example provided is for illustration of fast track SIPOC process modeling via the Process Horizon web app with no claims to the accuracy of the information provided.
SIPOC: Supplier (Origin) > Input > PROCESS > Output > Customer (Destination)
Understanding of the causes and effects of environmental & climate change processes is paramount to positive environmental & climate changes through our human activities.  
I therefore hope that subject matter experts on the environmental & climate change processes can demonstrate the real causes and effects of what the problems are and what should be done via the easy to understand SIPOC process view.
As called for in the Paris Agreement, the goal is to keep global warming to no more than 1.5 degrees Celsius and emissions should be reduced by 45% by 2030 and reach net zero by 2050. > On the way to survival.
Envision process changes by automated process modeling: https://processhorizon.com