Define a process based job description for a QM position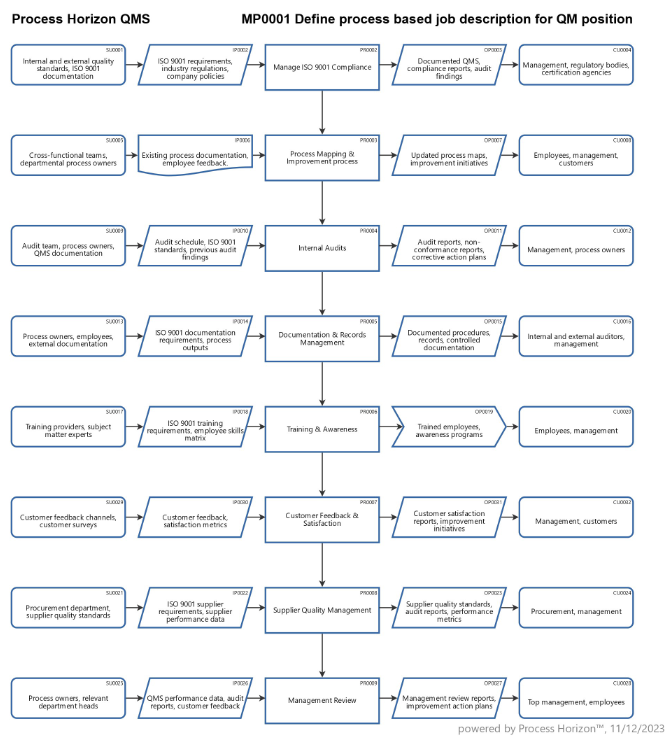 Job Overview
The Quality Manager - ISO 9001 is responsible for overseeing the development, implementation, and continuous improvement of the company's Quality Management System in accordance with ISO 9001 standards. This role involves managing all aspects of the QMS, ensuring compliance and driving a culture of quality throughout the organization.
Key Responsibilities
1. ISO 9001 Compliance
Lead the development, implementation, and maintenance of the company's Quality Management System in accordance with ISO 9001 requirements.
Ensure ongoing compliance with ISO 9001 standards through regular audits and assessments.
2. Process Mapping and Improvement
Collaborate with cross-functional teams to map and document key processes within the organization using the smart ProcessHorizon web app for SIPOC process mapping as propagated by the ISO 9001 QMS standard.
Identify opportunities for process improvement and lead initiatives to enhance efficiency and effectiveness.
3. Internal Audits
Plan and conduct regular internal audits of the QMS to verify compliance and identify areas for improvement.
Work with relevant departments to address non-conformities and implement corrective actions.
4. Documentation and Records Management
Establish and maintain comprehensive documentation of the QMS, including procedures, work instructions and records.
Ensure proper control and management of quality-related documentation.
5. Training and Awareness
Provide training on ISO 9001 requirements and the QMS to employees at all levels.
Foster a culture of quality and continuous improvement through education and awareness programs.
6. Customer Feedback and Satisfaction
Monitor customer feedback and satisfaction metrics.
Implement measures to enhance customer satisfaction and address any quality-related concerns.
7. Supplier Quality Management
Collaborate with the procurement team to establish and maintain quality standards for suppliers.
Conduct supplier audits and assessments to ensure compliance with ISO 9001 requirements.
8. Management Review
Coordinate and facilitate management review meetings to assess the performance of the QMS and identify opportunities for improvement.
Qualifications
Bachelor's degree in a relevant field (e.g. Quality Management, Engineering, or a related discipline)
Proven experience in quality management with a focus on ISO 9001 compliance
In-depth knowledge of ISO 9001 standards and requirements
Strong analytical and problem-solving skills
Excellent communication and interpersonal skills
Certification in quality management (e.g. as ISO 9001 Lead Auditor) is highly desirable.
Skills
Process mapping and improvement methodologies
Internal auditing and root cause analysis
Document control and records management
Training and facilitation skills
Strong project management abilities
Using the following link you can access this sandbox process model in the ProcessHorizon web app and adapt it to your needs (easy customizing) and export or print the automatically created visual process map as a PDF document or share it with your peers: https://app.processhorizon.com/enterprises/5Q6WfPhSsesmvnnXe49VBS16/frontend