Master automated Business Process Modeling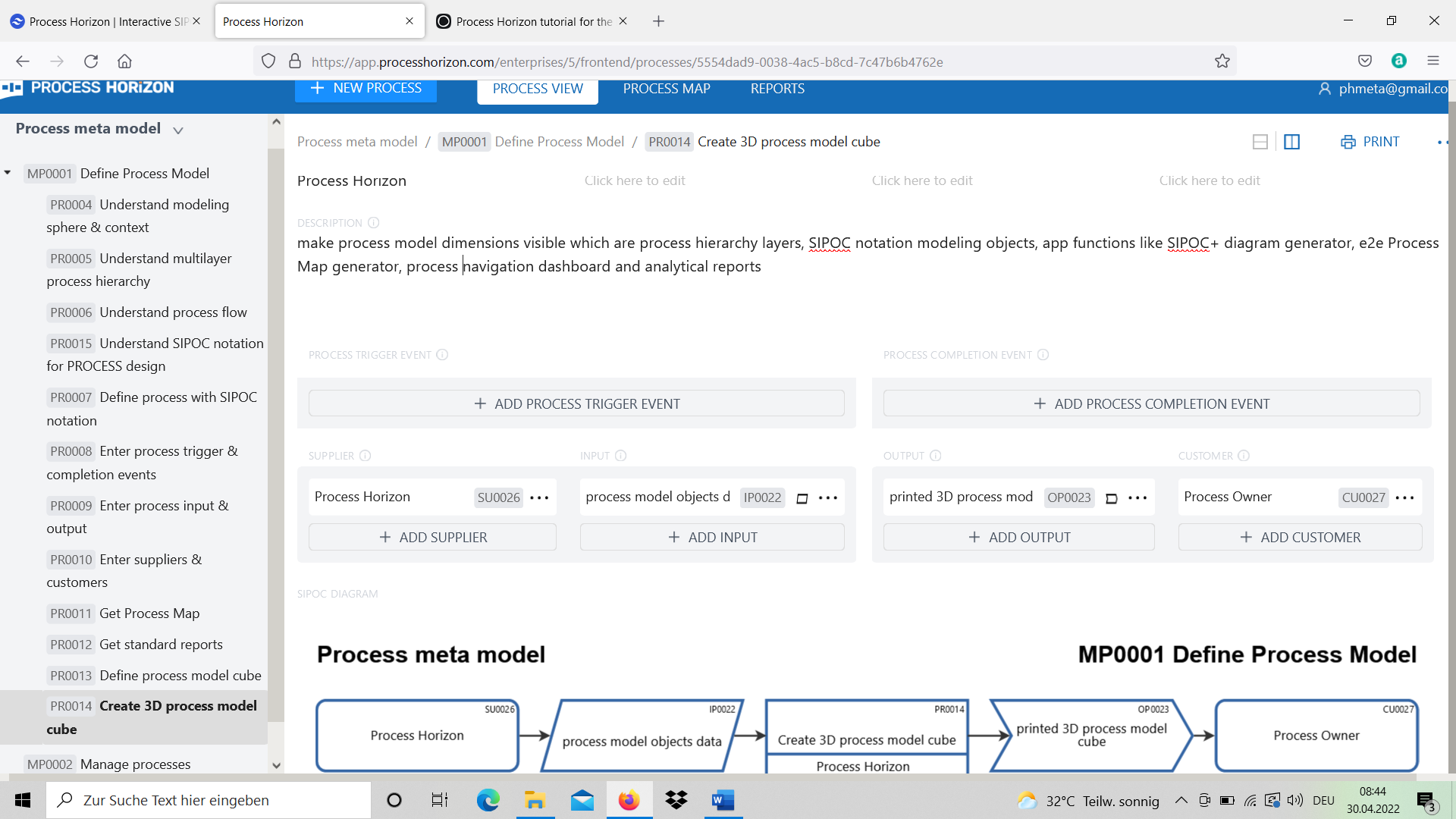 As a process owner, business professional or subject matter expert, fast track documentation of your current best-practice business processes or design your new multilayer end-to-end process model in support of your new innovative business model using the universal SIPOC process modeling notation.  
Process Horizon is a smart web app supporting a user-friendly but comprehensive process modeling approach via SIPOC object and optionally events definition.
SIPOC:      Supplier > Input > PROCESS > Output > Customer  
Based on your process information provided, Process Horizon will instantly generate a visual SIPOC process diagram expanded on the fly and for a process suite an end-to-end Process Map for review or printing or export.
All processes will be reflected in the navigation dashboard and all process data entered will be stored in the Process repository for documentation and all visual process diagrams like process maps and analytical reports will be generated from the latest data ensuring consistency of textual and visual documentation.
Steps to get started with the Free Trial of the ProcessHorizon web app:
1.   Goto https://processhorizon.com/
2.   Select Free Trial on the ProcessHorizon website
3.   Enter your email & a password & sign up to the Interactive SIPOC+ Process Modeler
4.   Enter an Enterprise, Organization or Project name and press create
5.   Select New Process for your Enterprise, Organization or Project
6.   Enter Process name and press enter
7.   Enter Process attribute data as applicable
8.   Enter Trigger & Completion Events as applicable
9.   Enter further SIPOC objects, i.e. Supplier, Input, Output & Customer data as applicable
10. Check out the SIPOC Process diagram instantly generated from your process information in the horizontal or vertical visual display area
11. Enter next Process objects data at appropriate hierarchy layer, default is process level & select Parent process and/or Predecessor process as applicable
12. Select Process map menu option & on the process navigation dashboard select processes of process suite to be instantly shown for review and update as required, or printing or export
The intuitive and iterative automated process intelligence approach of the Process Horizon web app will provide swift actionable process models.